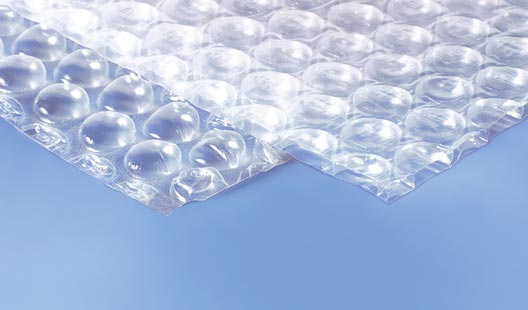 bubble wrap, a commonly used packaging material, also interests many of its addictive popping features. It's a strange fun to pop those bubbles. However, primarily these wraps are used for ensuring the safety of the goods during shipping and posting. Bubble wraps are thin plastic sheets with small sealed air filled bubbles, which vary in size.
Sheets with small bubbles are used for the packaging of more fragile items like glass decorative products, glassware or electronic items. The large sized bubble wraps are used for packaging and protecting slightly robust products like furniture from getting scratched .  Sometimes, these are also used for filling in the voids left out in packaging boxes so that the items can remain in one place and don't break off during shipping, loading and unloading. In the market there are variety of bubbles wraps are available in different forms such as rolls, sheets and bags. Different forms or types suit different packaging requirement, such as :
Large sized bubbles for packing slightly sturdy products
Small sized bubbles for packing very fragile items.
Anti-static Bubble wraps, for packaging static sensitive electronic products like computer parts.
Self Adhesive wraps are used when a more secure packaging is required; these wraps don't leave residue on the items
As an environmental safety has become very important, so even biodegradable bubble wraps are available in the market.
Bubble Wrap Bags are pouches that are used for carrying small items.
If you are in need of bubble wraps and looking for some reliable sources for purchasing these, then online buying can be a good option for you. It's good if you know any local supplier from whom you can directly buy the product. But if you don't have access to any such supplier then you can go for online purchasing . It's very easy to do the online buying as you get doorstep delivery.
Rest, you get access to a large number of trusted suppliers and can select your product from an extended variety. Online suppliers also offer good discounts to make your deal more profiting.Hence, online purchasing is a good option for both looking for bulk or single roll purchasing. However, on placing bulk orders like 200 meters at once, you can even get your order at wholesale rates.
If you already posses some used bubble wraps, where the bubbles are not yet popped up, then consider re-using them as these can be re-used twice or thrice, and it's also an environment safety measure.